This Guide Was Made By "Mod Sick"

Color Chart
Skills
Combat
Merchanting
So we all know how great of a feeling it is to be rich in a game or even to just have enough money to spend it on stupid things like Party Hats, H'Ween Masks, or armor sets. In this guide I will show you how to start off making money and how to make even more money once you've gotten the hang of things. So lets get started.
Thieving is a great way to make fast cash when your just starting into the game, now while it can be boring, it really isn't that hard to sit there and click while watching your favorite T.V. show or talking to your friends on DreamScape, now thieving is based either at home or Edgeville, Edgeville is alot easier due to the fact that you don't really have to move alot.
Another good way to make cash is through crafting, you can craft gems into amulets and sell them to Herquin at home in the bank. This is also fast cash although it does require a bit of starter cash, but you do start out with a bit of cash so it's not that big of a deal.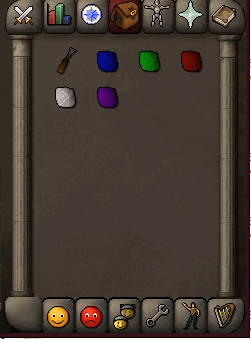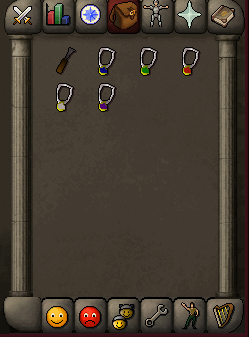 Once you have enough cash you can start to consider combat ways of making cash, the easiest and least time consuming way i've found is corporal beast located at ::corp, corporal beast has to be either ranged or maged, melee WILL get you killed very very fast. The picture below will show you the safe spot, there are others but I got into this one so i went with it. Corp drops all the spirit shields.
Another combat way would be Bandos, Bandos uses mainly melee based attack so you will have to protect from melee on him, you will need to use a decent melee weapon along with decent armour. Bandos can drop Armadyl Hilts, Bandos Chestplates, Bandos Tassets, Bandos Boots, and GodSword Shards.
The last combat way to make cash is Daggonath Kings, Rex, Prime, and Supreme. These Kings drop dragon hatchets, dragon scimitars, and clue scrolls, you can find the clue scroll guide HERE-http://dreamscapersps.forumotion.com/t137-clue-scroll-guide. You need decent melee gear for Kings, and you need to use protection prayers. Prime=Mage, Rex=Melee, Supreme=Range.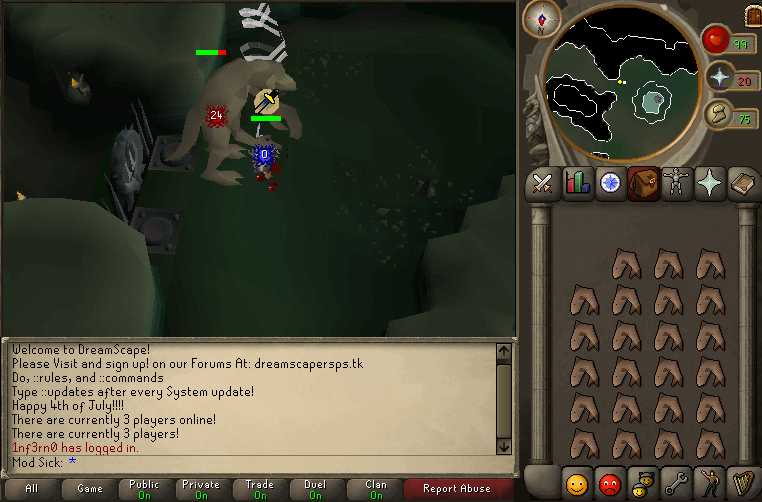 Final money making way is merchanting items, which basically means buying something then selling it for more than you bought it. You can do this by making alot of cash, then trying to buy things for lower then normal price if you think you can sell for more than what you bought it for, the key to this is to not go overboard and buy alot of unsalable items and lose money. Try to merchant rare or needed items to maximize your cash.